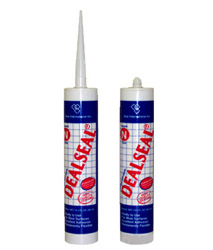 DealSeal® N 300
DealSeal® N 300
Odorless, RTV Silicone with fungicide
DEALSEAL® N 300 is a very high quality, high speed curing, single component, neutral cure, low modulus, 100% silicone sealant. It cures with atmospheric moisture to form a high strength flexible seal to accommodate high thermal shrinkage and moisture movements. DEALSEAL® N 300 is designed for use in installation. Its fast skinning time, thick consistency, easy tool-ability, odorless application and adhesion to vinyl, aluminum, wood, glass, concrete and other construction material allow, it to be perfect sealant for installation. DEALSEAL® N 300 is designed to resist the growth fungus, mold and mildew for a minimum of 2 years and up to 15 years based on location of application.
Features:
Odorless
Fast curing
Excellent adhesion and strength
Outstanding weathering characteristics
Excellent UV and ozone resistance
No slump
Excellent chemical resistance
---
---
NOTICE TO PURCHASER: DEAL International Inc. warrants its products to conform to their published specifications. The user shall determine the suitability of the product to their particular application. THE FOREGOING WARRANTY IS IN LIEU OF ALL OTHER WARRANTIES EXPRESSED OR IMPLIED, INCLUDING THOSE OF THE MERCHANTABILITY OR FITNESS FOR ANY PURPOSE NOT EXPRESSLY SET FORTH HEREIN. Manufacturer's and seller's liability for damage hereunder shall not exceed the purchase value of the goods used. IN NO EVENT SHALL MANUFACTURER OR SELLER BE RESPONSIBLE FOR INCIDENTAL OR CONSEQUENTIAL DAMAGES ARISING OUT OF OR IN CONNECTION WITH THE USE OF THIS PRODUCT BY BUYER, BUYER'S USER, OR ANY OTHER PERSON. Notification of claim must be sent in writing to DEAL International Inc.