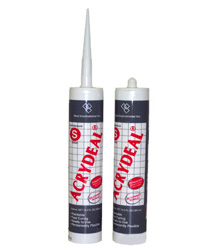 Acrydeal® S
Acrydeal® S
Siliconized Acrylic Latex Available with fungicide
ACRYDEAL® S is a one part sealant based on acrylic emulsion, that cures with atmospheric moisture,producing a flexible joint. ACRYDEAL® S adheres very well to most-porous and porous substrate. Resistance to water,weathering and moisture vapor and is formulated for both interior and exterior use.
ACRYDEAL® S is paintable once cured painting over the sealant creates invisible joints which is describe in the interior of a house.The fungicide resist fungus and mildew growth and can be used in sealing bath tubs, tiles, windows, doors, kitchen sinks, cabinets and other interior and exterior joints that remain damp or for sanitary reasons.
Features:
Paintable
Economical
Single Component, ready to use
Easy application at all temperatures
Outstanding weathering characteristics and UV resistance
Excellent chemical resistance
---
NOTICE TO PURCHASER: DEAL International Inc. warrants its products to conform to their published specifications. The user shall determine the suitability of the product to their particular application. THE FOREGOING WARRANTY IS IN LIEU OF ALL OTHER WARRANTIES EXPRESSED OR IMPLIED, INCLUDING THOSE OF THE MERCHANTABILITY OR FITNESS FOR ANY PURPOSE NOT EXPRESSLY SET FORTH HEREIN. Manufacturer's and seller's liability for damage hereunder shall not exceed the purchase value of the goods used. IN NO EVENT SHALL MANUFACTURER OR SELLER BE RESPONSIBLE FOR INCIDENTAL OR CONSEQUENTIAL DAMAGES ARISING OUT OF OR IN CONNECTION WITH THE USE OF THIS PRODUCT BY BUYER, BUYER'S USER, OR ANY OTHER PERSON. Notification of claim must be sent in writing to DEAL International Inc.